Lesson from the Fishbowl
By: Donna Avant
Recently my husband, John, purchased a fish and a fishbowl to use in a sermon illustration.  His plan was to give away the fish and the fishbowl the next week.  However, he grew fond of the fish and, oddly, I have also.  He confessed last week to our entire congregation that he has found himself on occasion talking to the fish he has now named, D.O.C. (Disciple of Christ)!  I promise you that John has not lost his mind.   The truth is this little black beta fish has reminded us both of some very valuable lessons we have learned over 38 years of being in the ministry.
The transparency of the fishbowl is crucial.    Upon becoming a pastor's wives 38 years ago, I was told that fishbowl life was terrible.  Everyone would be watching me; everyone examining my every move.   Yet, what I have discovered is that living in a fishbowl is actually a blessing and truly biblical, not just for those in ministry, but for all believers.  Colossians 4:5-6 says, "Be wise in the way you act toward outsiders; make the most of every opportunity.  Let your conversation be always full of grace, seasoned with salt…"
I can't count the number of times I have found myself in a situation in which I wanted to give someone a piece of my mind or just rant and rave.  However, the Holy Spirit would remind me others were watching me and to remember "Who" I belonged to and "Who" I represented.
Our world needs to see us as spiritual leaders being transparent, being real.  When the world perceives us as playing a game or faking it, we lose credibility.   When I mess up, and I have on many occasions, it is critical that I be quick to apologize and ask forgiveness.  The lost world is drawn to authentic living.
The walls of the fishbowl are protection.  I have a rebellious nature.  Really, I do.  If the rule says, the pastor's wife is not supposed to dance–well, you will find me dancing in the kitchen to my loudly blaring worship music or on a cruise ship with my husband dancing to old 70's rock music.
Consider D.O.C., the fish.  If I broke his glass fishbowl, he would die.  Let's say I put him in a huge tank so he would have more room to swim freely.  He would really like that.  Yet, if I broke the glass walls of the large tank, he would still die.  What if I just decided to "set him free" in the big ocean?  He would certainly have all the freedom in the world, yet even the ocean has its limits and boundaries.
The walls God gives us are for our protection, not our punishment or harm.   The walls, God's laws, are for our benefit and protection.  They truly do bring blessing.  What we must realize as minister's wives is that every believer, not just us, needs God's walls of protection.
The key is discerning what rules are man-made and what are from the Lord.  This point is crucial in raising children in the fishbowl.  In my humble opinion, it is one of the most important keys to children growing up to love Jesus and love the church.    My mentor in the ministry, Esther Walker, now 86 years young, taught me years ago a very important principle:  Never tell your children they can or can't do something because their dad is the pastor!   Base your parenting principles on the Word of God, not on the opinions of others in the church or man-made rules.
When my oldest daughter Christi was three years old, we were pastoring a mid-size church.   There was no children's church or program for preschoolers.  She would come into the worship service with me and during music worship, she would stand on the pew right beside me, so she could see the hymnal and see the worship leader.   One Sunday, a disgruntled church member told my husband that Christi should not stand on the pew beside me because it was being disrespectful of the pew itself.  My husband very "respectfully" informed this church member that our daughter had a heart of worship and loved singing next to her mommy.   Worship was more important than "the pew."
On occasion, I am privileged to watch my now 33 year old daughter be a part of leading worship for thousands.   My mind goes back to that moment in time.  Thank you, Lord, for helping us to teach our children to base decisions and actions not on man-made rules or traditions but on the Word of God.
The water of the fishbowl must be cleaned regularly.  D.O.C. doesn't like change.  When John cleans out the fishbowl and changes the water, he does not like it.  He shakes and flips all around.  He is scared.  When the water in the fishbowl becomes cloudy, D.O.C. moves very slowly.  He becomes listless due to the water being filled with his excrement.
D.O.C. doesn't realize that my husband is really saving his life by cleaning/changing his water.
As a pastor's wife or anyone in the ministry, we must allow the Lord to clean us regularly.   Sometimes I am so busy helping others clean up their lives and looking at filth all around me that I don't see what God needs to do in my own life.  If our churches are going to experience God in a fresh new way on a consistent basis, we must be leaders who constantly ask the Lord to clean us up.
Changing the water, being cleaned up, can be scary and even painful.  Yet, it is necessary.
One of my favorite prayers for our church and for my own life is based on Ephesians 5:26-27.
"Lord wash us (your church) with the water of your word so that we might be presented to you as a radiant church, without stain or wrinkle of any other blemish, but holy and blameless."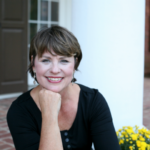 Donna Avant is the wife of Dr. John Avant, Senior Pastor at First Baptist Concord in Knoxville, TN.  John and Donna have been married for 37 years.  They are parents of three adult children, Christi, Amy and  Trey, who are all married now.  They have three grandchildren, William , Addy, Aubrey and Isaac is due in June of 2017.
Donna currently is a teacher in Women's Ministry at First Baptist Concord.  Donna has had the privilege of speaking all over the United States and many countries, including India, England, Wales, Belarus, Central Asia and Lebanon.  Donna is a contributing author to The Woman's One Year Devotional published by NavPress.  She has also authored "No Excuses" a Bible study of I and II Timothy.
Donna was the 2014 President of the SBC Ministers' Wives Luncheon and currently serves on the Executive Board of the SBC luncheon.  She is also currently the City Wide coordinator for Lifeway for the 2017 Priscilla Shirer Live event in Knoxville for July 14-15, 2017. Donna has a blog called Real Life on Rocky Top in which she shares intimately about her life and current issues.  www.reallifeonrockytop.com 
Find out more about Diane and our writing team.