Back to the Basics
"Lord this is too much. I need a moment to myself. Everybody needs me all at the same time. Can I just scream?"
Perhaps this is familiar. Perhaps you are overrun with everyday tasks, overwhelmed by the needs of everyone around you, drowning in your attempt to be everything to everyone else. Perhaps you can relate.
As a Pastor's wife, I often find myself feeling stretched thin, caring for my husband and family, attending to the needs of the ministry, interceding on behalf of people I know and don't know, praying for the nation I live in and others I have never visited–AND working a full-time job. Daily life can bog us down and taint our focus if we allow it to do so.
Recently I taught a lesson on "Getting Back to the Basics." The lesson served as reminder to all who attended the study as well as to me not to allow daily life to throw us off course. What are the basics? They are prayer, daily communion with God, and fasting. I find that when I feel overwhelmed and sinking it is usually because I have neglected to spend time with the Lord. Communion with the Lord is necessary not only when you wake up, but also throughout the day. The word of God tells us to "Pray without ceasing," 1 Thessalonians 5:17.
Benefits of Prayer and Fasting
1. It builds your relationship with God.
Through prayer you can communicate the cares of your heart and hear God for answers and reassurances (Philippians 4:6,7). Through prayer you come to know who God is. As you draw closer to him, he reveals more of himself to you.
2. Prayer brings clarity
. I think of the story of Jehoshaphat (2 Chronicles 20). Oh, how he needed to hear God. Can you imagine having enemies round about you ready to destroy you? In this story, Jehoshaphat and all Judah sought the Lord and waited for him to speak. How would Judah have fared if Jehoshaphat had not had a relationship with the Lord and known who He was?
3. Prayer brings reassurance.
In 2 Kings 6:15-17, Elisha and his servant were in a similar situation as Jehoshaphat. Faced with the possibility of being destroyed by their enemies, Elisha told his servant that more were on their side. He then prayed and asked God to open his servant's eyes to reassure him that indeed more were on their side in the battle.
4. Prayer and fasting move the heart of God.
I think of the story of Jonah. As a child when I was taught this story, the focus was on Jonah's disobedience. In Jonah 3 however, we see that the people of Nineveh "believed God, and proclaimed a fast" (Jonah 3: 5a). The sacrifice and repentance of the people touched so God's heart that he chose not to destroy them. It showed God the sincerity of their hearts and that they truly wanted to turn from their wicked ways.
5. Together they strengthen your spirit and prepare you for spiritual warfare.
Mark 9:19-29 tells a story of a young man who was possessed by dumb and deaf spirits. Though Jesus' disciples tried, they were not able to cast the spirits out. Jesus spoke and commanded the spirits to leave, and they did. Perplexed his disciples inquired why they were unable to help the young man. Jesus stated in verse 29 "this kind can only come forth by nothing, but by prayer and fasting,"
Through each of these stories we are reminded that our relationship with Jesus is not wrapped in daily to-do lists, but rather daily communion with him and sacrifice through prayer and fasting. Returning to the "basics" realigns our focus and draws our attention to the one thing that is most important–building our relationship with Jesus. This daily practice prepares us to better attend to the needs of our husband, family, church, job, and communities.
Ways to get back to the basics:
Set a daily prayer time and keep it.
Set a day of the week to fast, to sacrifice something such as a meal, refraining from indulging in sweets, staying off social media, or abstaining from watching your favorite show. Use the time instead to pray and seek God through worship and reading his word.
Apply the word of God and really live it out.
When the cares of life come, and they shall, you will be better prepared to handle them if you "get back to the basics" by building your relationship with the Lord through prayer and fasting.
Post your comment here or sign in for privacy and post here.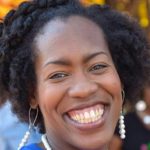 DeNise Gerst is a veteran teacher in the public school system. She is a worshipper who ministers God's love through song and liturgical dance. DeNise is an author and has published three books. Her latest book "How to Survive in the Public School System: As a Christian Educator," was recently released this summer. She has served in various roles within her church and community. She currently serves alongside her husband, John, who is Senior Pastor and co-founder of Take Authority International Ministries in Charlotte, NC. They have one handsome son.
You can check out Contagiousjoy4him & our statement of faith here. We Believe. You can check our Founder and Directors's speaking schedule here. Find out more about Diane and our writing team.