Unleashing Grace
By:  Bobi Ann Allen
But by the grace of God I am what I am, and his grace to me was not without effect. No, I worked harder than all of them—yet not I, but the grace of God that was with me.–1 Cor. 15:10
Have you ever been robbed?
When I was a girl, my family's car was broken into while we were on vacation one summer.  Talk about a downer.  The thieves didn't take much but all of us were shaken by the fact that someone had entered into our space uninvited and pilfered through.  We went back to the hotel, packed our things and went home.  Our trip was tainted and we just wanted to be back in our own house where we felt safe.
As believers, we constantly deal with a thief, he is the accuser and the Enemy of our soul.
Scripture references him and says "The thief comes to steal, kill and destroy but I (speaking of Jesus) come to give you life and to give it more abundantly." (John 10:10)
Satan can seek to influence various areas of our lives.  He confuses us, lies to us and skews our perspective.
As a woman, a mom, and a pastor's wife, the thief has gone after me with perfectionism.  It started long before I was ever a grown woman, a mom or married to a pastor.  It started as a girl who compared herself to those around her or to a picture in a magazine.  It continued as I competed for a spot on the cheerleading squad or the academic scholarship to college.
And for years I've sought a version of perfect in order to be liked or measure up to some self-imposed standard because perfectionism comes from a place of believing you're not good enough.
As believers, this is ironic.  We are believers because of grace and grace is available because…guess what?  I'm not good enough and neither are you.
We need grace and that need is what it's there for.  However, instead of unleashing the full measure of grace offered by Jesus, you and I still try to get it all just so-so in order that we might be accepted and received by those around us.
Though this is a trap for many women, I'm convinced perfectionism is exceedingly common for women married to pastors.  We want to please our husband, we want to please the people in our churches, we want to please God and when we look at the deep dark places in our lives, we realize we're just not good enough.
It doesn't take long for the trap of perfectionism to rob us of the joy and honor of serving as wives to men who are pastors.  We become resentful of the eyes, the comments, the countless hours of striving to look and be perfect.  We feel violated by an uninvited burden placed on us by the devious accuser.
Have you sensed a unwelcome resentment or bitterness toward the work God has assigned you?  Are you exhausted by the never-ending demands?  Unleash the power of God's grace on your life. Take hold of what God has offered you, setting your mind on His truths as you take back that which the Thief seeks to steal.
Post your comment below  or sign in for privacy and post here.
As a bonus to this article, Bobi Ann has written 4 Ways to Set Your Mind on Things Above to help you take back what the Enemy has stolen and learn to set your mind on God's truth.  Click Here to get your copy!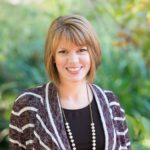 Bobi Ann Allen is a pastor's wife in Round Rock, Texas where she serves alongside her husband, Jared and wrangle their two silly kids, Kati Ann and Kie.  Bobi Ann is a speaker, writer and blogger at  bobiann.com.  Her favorite things involve comfy clothes, mexican food and the occasional Netflix binge!  Read about our writers here.